The exhibit area will be located in the Ballroom foyer in the heart of the social activities and technical program.  It will allow mining companies, suppliers, consultants, governments and other organizations to showcase their products and services to a wide audience. With a limit of 30 booths, you will have plenty of opportunity to maximize your exposure to the attendees during the four days of the conference.
Various activities including the welcome reception, refreshment breaks, end of day receptions, and selected functions will all take place within the exhibit area giving you access to all conference attendees. Poster board displays will be set up near the exhibit booths in the foyer and all technical sessions will be held around the corner from the exhibit area.
$3,500 CAD plus taxes
Each 8 x 10 single booth space will be equipped with:
Black 8ft. high back drape and 3ft. high side drape
One 6-foot skirted table with 2 chairs and a wastepaper basket
One standard 1500-watt duplex electrical outlet
Complimentary wireless internet access
Each 8 x 10 single booth space includes:
2 complimentary full conference delegate passes (value of $2,190 CAD)
Full conference delegate pass includes access to plenaries and technical program sessions, 6 coffee breaks, 3 receptions, 3 luncheons and proceedings.
Listing in the ICARD website
Listing in the final program and conference App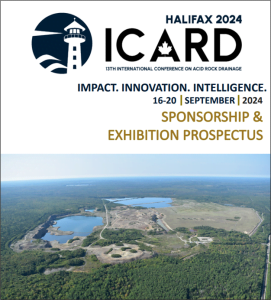 Industry – access to the latest developments in ARD mitigation and management, set within a context of reducing residual risk and cost of mine closure. Assisting industry to develop the business case for pro-active ARD management and impeccable ESG credentials. Interaction with industry colleagues, world-class consultants, regulators and research organisations. 
Suppliers – the opportunity to highlight applications of equipment, technology and services relevant to ARD mitigation and management to the industry.
Government agencies – exposure to leading practices adopted and implemented by industry, new and innovative solutions developed by research institutions, universities and consultants for managing and controlling ARD. Evaluation of the support capacity available to strengthen partner organisations and encourage long-term sustainable programs.
Universities and Researchers – the chance to demonstrate new technology and research breakthroughs and an opportunity to establish closer ties with leaders in ARD management.
Consultants – the opportunity to showcase your skills and expertise in managing and treating ARD, as well interacting with the diverse range of experts and practitioners in attendance.
Contact us for more information.
Sales Manager, Exhibition and Sponsorship
Nadia Bakka
Canadian Institute of Mining, Metallurgy and Petroleum
nbakka@cim.org