Sponsorship Opportunities
WHY SPONSOR? Visibility is Key!
Sponsorship increases the event experience through multiple channels throughout the exhibition, conference, and special events. ICARD 2024 provides the ideal platform to showcase your brand to this premier conference for mining environment.
Several opportunities are available to help you achieve your specific objectives and enhance your outreach at this international event.
Regardless of your budget, we have an opportunity that will fulfill your requirements and ensure an excellent return on investment. View the detailed inclusions of each package level and À-la-carte items from this Prospectus.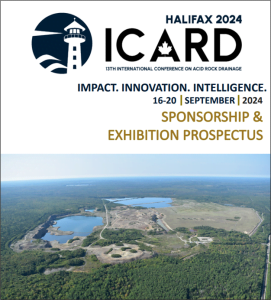 The 13th ICARD can expect to attract the majority of delegates from Canada, USA and Australia. Special effort will be made to attract delegates from other prominent mining locations around the world. We expect a quality audience of at least 400 – 500 attendees.
Delegates will include:
Executives
Environmental Practitioners
Regulators
Scientists
Engineers
Mine Planning Professionals
Industry
Government
Researchers
Educational Institutions
Consultants
Others interested in ARD management
Aboriginal and Community Groups
Contact us for more information.
Sales Manager, Exhibition and Sponsorship
Nadia Bakka
Canadian Institute of Mining, Metallurgy and Petroleum
nbakka@cim.org